Long-term Services and Supports (LTSS)
---
Long-term services and supports help people maintain or improve their independence and quality of life.
What are Long Term Services and Supports?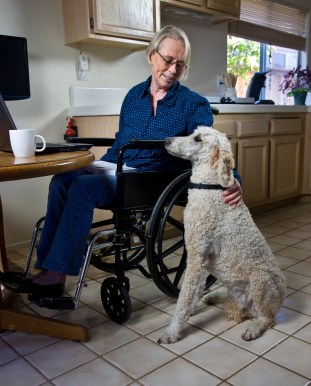 Most people prefer being as independent as possible and choose to receive these services in their own home or in community settings. Long-term services and supports refers to places, services, and products that can help with health or personal care needs over a long period of time.

Knowing the basics of long-term services and supports will help protect your future. Finding the right fit for you can expand your independence and options.
Understanding the types of services
Your needs for long-term services and supports may change over time. Whatever your needs, more and more options are available for care - in your own home, within your community and within different residential facilities.


Home-based services
Home-delivered meals are meals that are delivered by private businesses or community-based organizations.
Monitoring and Reminder Services help people follow medication schedules, manage and report their health, and get emergency assistance.
Personal Care Services provide help persons of all ages with basic activities such as bathing and dressing.
Home health care often includes skilled, short-term services such as nursing or physical therapy. A doctor must order them for a specific condition.
Community-based services
Facility-based services
Adult Family homes are licensed single-family settings with care for up to six people.
Assisted living and residential care facilities provide housing and care services to more than six people.
Nursing facilities give licensed 24-hour supervised nursing care.
Memory care communities are secure environments where staff care for people with dementia and provide a more secure setting. Other resources and supports.
Other resources and supports
Alzheimer's disease and other forms of dementia affect people in different ways. Services for those touched by dementia include learning about the disease, help in the home and support for family caregivers. Many community services can often be helpful for people to stay safe and as independent as possible. Learn more...
Caregiver support programs help those who provide support to a family member or friend. Services include education, community support groups and in-home help. Respite services give caregivers a break from their role.
Legal assistance can be critical to planning for and solving problems with long-term services and supports.
Preventing elder abuse includes keeping it from happening in the first place. It also means stopping it from continuing. Immediately contact Adult Protective Services or law enforcement if you suspect elder abuse.
Employment Programs help individuals seeking employment prepare and find on-the-job training and employment opportunities.
Community Involvement Activities include civic and volunteer opportunities; social activities; education, exercise, and outdoor activities.

Washington's Community Living Connections staff are available to help you explore your options to meet your current needs or create a plan for the future.
Connect now